Isaac Zee
---
Music Composer, Performer, and Educator
Rhubarb at Red Gate
Dec2021
I'm officially the violinist for the jazz fusion band Rhubarb! Roaring debut concert at Red Gate Vancouver on Dec11, huge thanks to everyone that came out! Follow the band Instagram page @rhubarbgroove to keep up to date with the group, more future concerts in the work!https://www.instagram.com/rhubarbgroove/
---
Slow Rise Music - Cardinal
Nov2021
Slow Rise Music is a newly formed group that specialises in classical contemporary vocal multi-instrumental music. I am honoured to compose a piece for their debut concert, which went very successfully. I would like to extend my congratulations to Slow Rise Music, and a heartfelt thank you to my collaborative poet Pamela Galloway, as well as the Canadian Music Centre for funding this project.
---
Chan Centre Fanfare - Don't Take The Skytrain
Jul2021
Congratulations to the Thunderbird Brass Quintet for the wonderful performance of Don't Take The Skytrain in UBC Chan Centre, despite harsh covid restrictions! And extra special thank you to the Chan Centre for commissioning this project and giving me this opportunity to work with these amazing musicians!
---
CMCPR Emerging Composer Competition
Apr2021
On the Day of Judgement has been announced the winner of the Canadian Music Centre Prairie emerging composer competition, and will be performed by the Winnipeg Symphony Orchestra at the Winnipeg New Music Festival in 2022. I am indescribably grateful to have the opportunity to work with people I looked up to for many years , and I cannot wait to attend the festival in my favourite city again.
---
Sonic Boom Music Festival
Mar2021
I am honoured to take part in the Vancouver Sonic Boom Music Festival 2021 despite a few delays caused by covid-19. The Black Dog Quartet did a fantastic job playing and interpreting the very technically demanding piece "Conversations". A sincere congratulations to everyone involved in this successful concert!
---
Odin Quartet: Lockdown Lullaby
Nov2020
I'm happy to announce that I will be collaborating with the Odin Quartet as a composer in their concert "Lockdown Lullaby" early 2021 in Toronto. More details coming soon, stay tuned!
---
Hourly Sketches now live!
Oct2020
My whimsical and light-hearted sketches composed in an hour is out under The Z-Factor on major music sites! Go take a listen!
---
19 Waltzes for the Distanced
Sep2020
I had the wonderful opportunity to take part in the Blue Ridge Music Festival and performed a piece with talented Winnipeg dancer Kimbaya Carriere. Columbia Waltz is a guided improvisation with chance element where available pitch classes are determined by dice throws in a cumulative fashion. The violin is plugged into a reverb unit and an amp.
---
Crash Bandicoot Cover
Aug2020
Thanks you MattAttack for asking me to take part in this cover of CTR map from Crash Bandicoot! Check the video for the passion project by MattAttack!
---
Cover: Spain, Konstantin Ilitskiy
Jul2020
Hearing Konstantin Ilitskiy's jazz violin solo over the harmonies of Spain by Chick Corea, I cannot resist the urge to transcribe and learn it. Mighty respect to that man who improvised it on the spot.
---
Interactive music, visuals, and dance: EARTH
Feb2020
EARTH is an interactive programmatic multimedia set performed in Quezon City, Philippines. It is loosely based on elements taken from multiple Philippino creation myths, including symbolism of bamboos, birds, and the first humans. The dancers wore a wireless device on their wrists that track their hand movement, allowing them to interact with the video and audio. I contributed in our team as a musician and programmer, alongside my fellow UBC laptop orchestra students and UP Dilaman music and dance students under the guidance of Dr. Keith Hamel and Dr. Bob Pitchard.
---
Storms of Sand
July2019
Storms of Sand was a piece written and performed as a part of LMCML Montreal: with Natalie Dzbik on violin, Arie Verheul-van de Ven on viola, and Anthime Miller on cello. It explores the possibilities of blending precisely calculated and notated music with improvisatory elements to produce the illusion of impressive showmanship in a difficult sounding piece. The piece is virtuosic in presentation but also self conscious, with a dry sense of humour. It also references the popular internet song, Darude-Sandstorm.
---
Conversations
Apr2019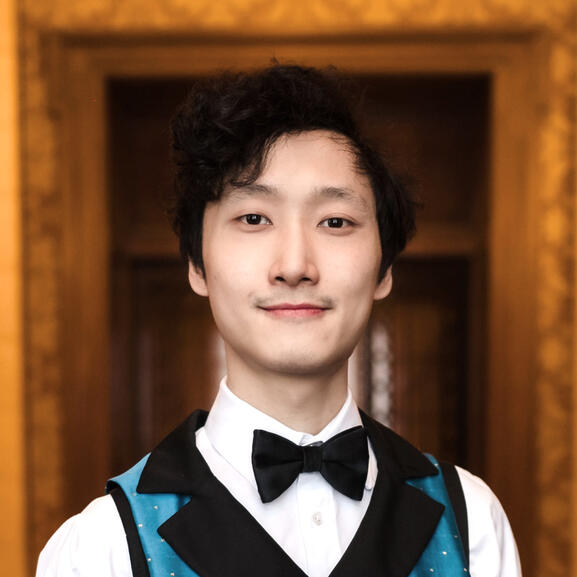 I am humbled to announce that my piece "Conversations" was the winner of the LCMS young composer competition post-secondary category. Thank you to the Rose Gellart String Quartet for premiering this piece, and the Canadian Music Centre for presenting the Barbara Pentland Awards of Excellence for Outstanding Composition in recognition of this piece!https://musiccentrebc.ca/2019/winners-of-langley-community-music-school-young-composers-competition/
---
UBC Game Jam
Apr2019
As much as I would like to contribute in our game dev team as a composer or a sound designer, I took up the responsibility as the sole artist and animator for our game. This was my first time doing arts and animation for a game, and it has been a fantastic learning experience, I would do it again in a heartbeat!
List of Works
---
| Large Ensembles | |
| --- | --- |
| Wind Band | Fractals (2015) |
| Chamber Orchestra | Christian's Big Black Clarinet (2016) |
| Symphony Orchestra | Fractals 2 (2016) |
| | On the Day of Judgement (2019) |
| Small Ensembles | |
| --- | --- |
| Brass Quintet | Don't Take the Skytrain (2020) |
| Horn Quartet | Steamingly Natural (2018) |
| String Quartet | Redemption, Zest, Frost, Twilight (2016) |
| | Connotations (2017) |
| | Cold, Dark, Gentle Place (2018) |
| | Conversations (2019) |
| Gold, Waves, Decalescence, Hope (2020) | |
| Flute, Violin, Cello | Beached (2018) |
| Violin, Viola, Cello | Storms of Sand (2019) |
| Violin, Clarinet Bb, Percussion | In the Cave of Crystals (2020) |
| Soprano Sax, Piano | The Darling Buds of May (2013) |
| Violin, Cello | Joyous Dance of the Mad Fiddler (2017) |
| Clarinet Bb, Piano | On the Sand (2018) |
| Vocal | |
| --- | --- |
| Soprano, Clarinet Bb, Piano | A Winter's Prayer (2014) |
| Soprano, Pianist, Nerf Gunner | I Miss you Harambe (2017) |
| Soprano, Mezzo, Alto, String Quartet | Avdiutt (2018) |
| Solo and Others | |
| --- | --- |
| Violin | Erase (2020) |
| Piano | 479/Autumn (2013) |
| | Starcrossed (2017) |
| Clarinet Bb | Anarchy (2014) |
| Balloons and electronics | Time Suspension (2017) |
| Flute | Miniature in C (2015) |
| Alto Sax | Unphased (2016) |
Bio
---
Isaac Zee is a Vancouver based composer, violinist, educator, and media performer.Embracing the impossibility of theoretical absolutes and yet rejecting pure romanticism in music, Isaac's works come across as quirky, bold, but still somewhat relatable. While he favours writing for small ensembles, especially string quartets, the style of his music takes inspirations from many different genres, including contemporary western classical, Balinese gamelan, swing, spectral, and computer-generated music.Isaac earned his undergraduate degree in composition in the University of Manitoba and his master's degree in composition in the University of British Columbia. Throughout his music education, Isaac had the opportunity to work with various ensemble across Canada and internationally, including the Turning Point ensemble, Quatuor Bozzini, Chroma Quartet, and the Rose Gellert String Quartet.The piece Conversations was the humble recipient of the Canadian Music Centre Barbara Pentland Award for Outstanding Composition in 2019. It features quartertones, irregular phrasings, extended techniques, with an emphasis on the natural contour of each individual phrase, like those found in human conversations. This style represents Isaac's latest composition flavour, with the frequent involvement of spectral analysis and computer assisted composition in the creation process. Isaac was also part of the UBC Laptop Orchestra as a MaxMSP programmer and composer, where he collaborated with musicians and dancers from the Philippines and successfully created and performed an interactive multimedia performance in the University of Philippines, Diliman (2020).
Subscribe to the newsletter to receive regular updates of my events and projects!
For more information, scores, collaborations, commissions, or just to say hi, please feel free to email contact@isaaczee.com or simply fill in the form below!